Academy Award and Grammy award-winning musician Herbie Hancock born
April 12, 1940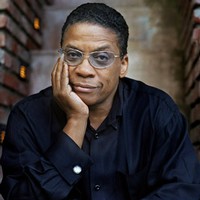 Academy Award and Grammy award-winning musician Herbie Hancock born in Chicago, Illinois.

As part of Miles Davis's "second great quintet," Hancock helped redefine the role of a jazz rhythm section, and was one of the primary architects of the "post-bop" sound. Later, he was one of the first jazz musicians to embrace synthesizers and funk.

Hancock's best-known works as a solo artist include "Cantaloupe Island", "Watermelon Man" and the pop single "Rockit" which earned him a Grammy Award in 1983 for Best R&B Instrumental Performance.

He is also the composer of a number of film and television soundtracks including the theme for Fat Albert and the Cosby Kids. The soundtrack for the film Round Midnight earned him the Academy Award for best Original Soundtrack in 1986.