Haitian superstar Wyclef Jean born
October 17, 1972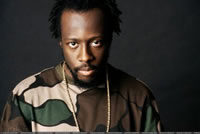 Haitian superstar Wyclef Jean born Nelust Wyclef Jean in Croix-des-Bouquets, Haiti. He first became famous as the leader of the hip hop trio The Fugees.

Clef' as he is affectionately called recorded a number of hit singles both with the Fugees and as a solo artist.

The hits include covers of "No Woman No Cry", "Killing Me Softly (With His Song)", "Ready or Not", "Gone Till November" and "Sweetest Girl (Dollar Bill)"

He has worked with a diverse range of artists including Carlos Santana, Gloria Estefan, Missy Elliott, Bono, Paul Simon, Shakira, Kenny Rogers, Willie Nelson, Maxi Priest and Machel Montano to name a few.

He has won several Grammy Awards with the group and as a solo artist.