Willa Brown-Chappell born
January 21, 1906 - July 18, 1992 (86)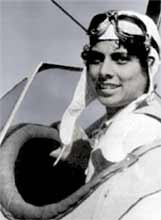 Willa Chappell was born in Glasgow, Kentucky. She graduated from Indiana State Teachers College [now Indiana State University], and worked as a school teacher at Roosevelt High School, Gary, Indiana before becoming a pilot.

Inspired by Bessie Coleman, Willa started taking flying lessons in 1934 at Chicagoís Aeronautical University. Soon she became a member of the Challenger Air Pilotís Association and the Chicago Girls Flight Club and purchased her own airplane.

She earned her pilotís license in 1937, she also earned a masterís degree from Northwestern University the same year. Chappell was the first African American woman to become licensed as a pilot in the U.S..

Willa earned her mechanicís license in 1943 and became the first woman in the United States to have both a mechanicís license and a commercial pilotís license.

Willa was also the first African American in the Civil Air Patrol. Chappell was the founder of the National Airmen Association of America, and trained more than 200 students who became Tuskegee pilots. She and her husband, Cornelius Coffy, owned and operated the first flight school for African Americans.

Willa Brown-Chappell was inducted in the Aviation Hall of Fame in 2003.