Grammy Award winning rapper, actor Will Smith born
September 25, 1968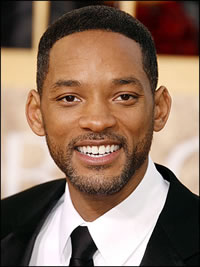 Willard Christopher "Will" Smith, Jr. born in West Philadelphia. He has had a successful career in television, film and music. A rare feat called "Triple Threat" in the industry. He first achieved success as a rapper winning the first ever Grammy in the Rap category (1988) for his song "Parents Just Don't Understand".

Smith's most notable television role was that of William "Will" Smith in "The Fresh Prince of Bel-Air".

His film work includes blockbuster films "Men in Black", "Ali", "Independence Day", "The Pursuit of Happyness" and "I am Legend".

He is the only black actor and one of three actors in the history of film to have seven consecutive US$100 million blockbusters.