Academy Award winning actress, comedian Whoopi Goldberg born
November 13, 1949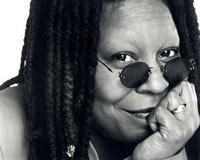 Academy Award winning actress, comedian Whoopi Goldberg born Caryn Johnson in New York City.

She is one of only ten individuals who have won an Emmy, a Grammy, an Oscar, and a Tony Award.

Among the many films she is credited for are: "The Color Purple", "Ghost", "Sister Act", "How Stella Got Her Groove Back" and "Fatal Beauty".

She is also known for her "Comic Releif" appearances and as a current host on the morning show "The View".