Poet Sonia Sanchez born
September 9, 1934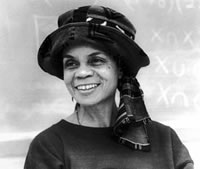 Poet Sonia Sanchez born as Wilsonia Benita Driver in Birmingham, Alabama.

Sanchez in the author of over a dozen poetry books. She has also written a number of plays and children books. She was an influential figure in the Civil Rights Movement and the Black Arts Movement.

She pioneered the fusion of musical formats with poetry and is also known for deliberately mispelling words to deliver her message.