Retired NBA player Sean Elliott born
February 2, 1968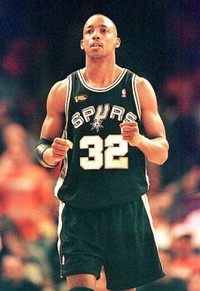 Retired NBA player Sean Elliott born in Tucson, Arizona.

Elliott was drafted by the San Antonio Spurs in the first round in 1989 and spent most of his career with team.

Elliott was an instrumental part of the Spurs' successful NBA title quest in 1999 with a three-pointer that edged the Portland Trail Blazers in Game 2 of the Western Conference Finals. The play, referred to as the "Memorial Day Miracle", shifted the momentum of the series to the Spurs.

Shortly after the championship run, Elliott announced that he had a kidney disease, focal segmental glomerulosclerosis and would require a transplant.

He underwent surgery on August 16 of that year, receiving a kidney from his brother, Noel. On March 13, 2000, Elliott became the first NBA player to return after a kidney transplant, he announced his retirement in 2001.