First African American to build a billion dollar company born
December 7, 1942 - January 19, 1993 (51)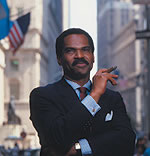 Reginald Lewis born in Baltimore, Maryland. He received his law degree from Harvard Law School in 1968.

He was a partner in Murphy, Thorpe & Lewis, the first Black law firm on Wall Street.

In 1987 Lewis bought Beatrice International Foods from Beatrice Companies for $985 million, renaming it TLC Beatrice International, a snack food, beverage, and grocery store conglomerate that was the largest black-owned and black-managed business in the U.S.

When TLC Beatrice reported revenue of $1.8 billion in 1987, it became the first black-owned company to have more than $1 billion in annual sales.