Singer Raphael Saadiq born
May 14, 1966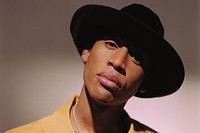 Singer, songwriter and record producer Raphael Saadiq born Charlie Ray Wiggins in Oakland, California. He first rose to fame as the lead vocalist for the R&B trio Tony! Toni! Toné! which also featured his brother Dwayne Wiggins, and his cousin Timothy Christian.

Tony! Toni! Toné! had a series of hits including "Feels Good", "Anniversary" and "It Never Rains (In Southern California".

He then went on to join and produce the super group Lucy Pearl that featured himself, Dawn Robinson (of En Vouge) Ali Shaheed Muhammad (A Tribe Called Quest). The group lasted one album.

Saadiq has since focused on producing for other artists including D'Angelo, Macy Gray, Whitney Houston, Mary J. Blige, Q-Tip and others.