Actor, singer Paul Robeson born
April 9, 1898 - January 23, 1976 (78)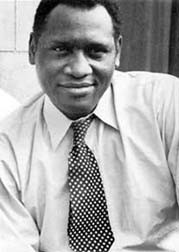 Paul LeRoy Bustill Robeson was born in Princeton, New Jersey. Robeson was a multi-lingual American actor, athlete, Basso cantante concert singer, writer, civil rights activist, fellow traveler, Spingarn Medal winner, and Stalin Peace Prize laureate.

Robenson is well known for his roles on stage and in film. He played the lead in notable plays including "Othello", "Porgy and Bess" and "Show Boat".

Among his films were "Show Boat", "The Emperor Jones"
and "King Solomon's Mines".

He lived in England and Russia for many years. He earned a Law Degree from Columbia University and was also a two time All-American during his college football career.