The king of Pop Michael Jackson born
August 29, 1958 - June 25, 2009 (51)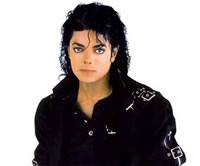 The King of Pop Michael Jackson born in Gary, Indiana. He debuted at the age of five as a member of the Jackson 5, and went on to become a pop icon as a solo artist.

Michael Jackson received thirteen Grammy Awards including eight on a single night in 1984. He is considered the Most Successful Entertainer of All Time" by Guinness World Records and holds the record for the best-selling album ever, Thriller. His records have sold over 750 million units worldwide.

He was also a notable philanthropist and humanitarian who donated and raised million of dollars through support of 39 charities and his own Heal the World Foundation.

Jackson died at the age of 50 in Los Angeles, California, after suffering from cardiac arrest. He had been preparing for the This Is It concert tour in 2009 which included 50 sold out dates at London's O2 Arena. His memorial service was broadcast live around the world.

In late August, 2009, the Los Angeles County coroner released his findings calling Jackson's death a homicide due to complications from drugs administered by his personal physician.

Jackson is survived by his 3 children. Jackson transformed the art of the music video and paved the way for modern pop music in his own country. He has influenced several leading musical artists, including Mariah Carey, Usher, Britney Spears, Justin Timberlake and R. Kelly.