Politician Louis Stokes born
February 23, 1925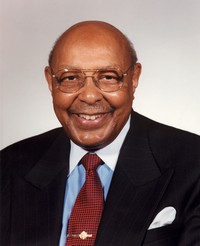 Politician Louis Stokes born in Cleveland, Ohio. He served in the United States House of Representatives.

He was elected to the House in 1968, representing the 21st District on Cleveland's East Side. He shifted to the newly created 11th District, covering much of the same area following a 1992 redistricting. Stokes served 15 terms in total, retiring in 1999.

He is ironically a cousin of Rick James.