Legendary rock guitarist Jimi Hendrix born
November 27, 1942 - January 18, 1970 (28)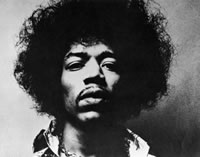 Legendary rock guitarist Jimi Hendrix born in Seattle, Washington. Hendrix is considered one of the greatest and most influential guitarists in rock music history. He is most often remembered for his psychedelic
rendition of the Star Spangled Banner at the Woodstock Festival and for lighting his guitar on fire at the Monterey Festival.

His signature song is widely considered to be "Purple Haze".