Jazz trumpeter Dizzy Gillespie born
October 21, 1917 - January 6, 1993 (76)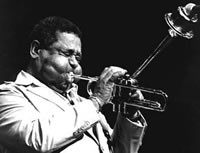 John Birks "Dizzy" Gillespie born in Cheraw, South Carolina. Together with Charlie Parker, he was a major figure in the development of bebop and modern jazz.

In addition to featuring in these epochal moments in bebop, he was instrumental in founding Afro-Cuban jazz.

Among Gillespie's most well known compositions are "A Night in Tunisia", "Groovin' High" and "Salt Peanuts".