Academy Award winning actor Cuba Gooding Jr Born
January 2, 1968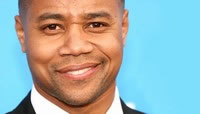 Academy Award winning actor Cuba Gooding Jr was born on this day to Cuba Gooding Sr a lead vocalist of the R&B group The Main Ingredient most well known for "Everybody Plays the Fool" and Shirely Gooding.

He first rose to prominence in the 1991 film Boyz N The Hood. In 1996 he won a Best Supporting Actor Oscar for his part in the film, Jerry Maguire.

He has three children with his wife Sara Kapfer whom he married in 1994.