Bessie Coleman, first African-American woman pilot born
January 26, 1892 - April 30, 1926 (34)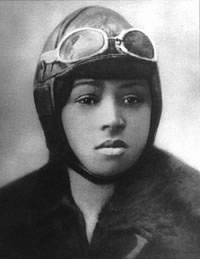 Elizabeth "Bessie" Coleman was born in Atlanta, Texas. Popularly known as "Queen Bess," Coleman was the first African American woman to become an airplane pilot, and the first American of any race or gender to hold an international pilot license.

She first became interested in aviation after hearing stories from pilots who were returning from World War I. Unable to gain admission to flight schools in the U.S. because of her race and gender, Coleman traveled to Paris, France on November 20, 1920.

On June 15, 1921 Bessie Coleman became not only the first African-American woman to earn an international aviation license from the Fédération Aéronautique Internationale, but the first African-American woman in the world to earn an aviation pilot's license.

Unable to earn a living as a commercial pilot upon her return to the U.S. she became a stunt flyer performing in airshows to great acclaim.

On April 30th, 1926 Coleman perished in an accident while practising in a newly purchased airplane. She was 34 years old. It was later discovered that a wrench used to service the engine had slid into the gearbox and jammed it, causing the plane to spin out of control.