Grammy Award winning singer, songwriter, musician, producer Babyface born
April 10, 1958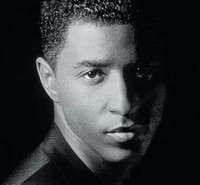 Grammy Award winning singer, songwriter, musician, producer Babyface born Kenneth Edmonds in Indianapolis, Indiana.

He is considered as one of the pioneers of the New Jack Swing sound and has writen for Janet Jackson, Mariah Carey, Brandy, Celine Dion, Vanessa Williams, Eric Clapton, Madonna, Aretha Franklin, Bobby Brown, Karyn White, Pebbles and Paula Abdul among others.

Edmonds co-founded LaFace Records with Antonio "L.A." Reid in 1989. Two of the label's first artists Toni Braxton and TLC achieved massive success. Braxton's eponymous 1993 debut album went on to sell over eight-million copies, and earned her a Grammy Award as the year's best new artist in 1994. Meanwhile, TLC's two albums on LaFace — 1992's Ooooooohhh.... On the TLC Tip and 1994's CrazySexyCool — combined to sell more than 15 million copies, and CrazySexyCool won the 1996 Grammy Award for Best R&B album.

Edmonds is also a successful film producer with the film Soul Food (1997) to his credit.

He has several hits as a singer including "Whip Appeal", "Someone to Love" and "Never Keeping Secrets".